Carol A. Kueker Construction Education Visionary Award Winner
2021 NEF's Carol A Kueker Construction Education
Visionary Award Winner
Lingguang Song, Ph.D.
Department of Construction Management
University of Houston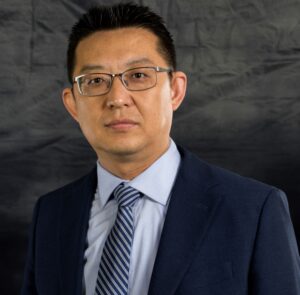 Dr. Lingguang Song is Chair and Professor of the Department of Construction Management at the University of Houston (UH), which has over 1,500 students and 5 degree programs. He established the vision "UH CM … the industry's university programTM" with a focus on serving the industry, preparing industry- ready graduates, and conducting applied research and innovation valued by the industry. He manages partnerships with over 200 contractors and owners through two industry advisory boards and an internship program. He is the faculty advisor for the Women in Construction student organization at UH. His industry practices involves both commercial and industrial construction sectors. He currently served as Academic Advisor and Executive Board Director for Engineering and Construction Contracting Association (ECC). He teaches construction management, contract, scheduling, estimating, construction engineering, and computer applications. His primary research interests include project planning and control, simulation and visualization, and disaster resilience. He has been involved in research funded by various grants from U.S. Department of Commerce, Project Management Institute, ELECTRI International, Fluor Corporation, Bechtel, Baker Concrete, Applied Bolting and other construction firms. He has published one book and more than seventy journal papers, conference articles, and technical reports on his research. He is the winner of the 2009 Best Peer Reviewed Paper Award of the Journal of Management in Engineering from the American Society of Civil Engineers (ASCE).
Community Service
Moderator, Bring your kids to work program, University of Houston, Houston, TX, June 2018.
Speaker, Construction management career and education, ACE Mentor Program, Houston, TX, May 2018.
Speaker, Annual Taste of Technology event, College of Technology in partnership with local community colleges, high schools, and UH Athletics Department, 2015-present
Speaker, Construction management training workshop, Texas Manufacturing Assistance Center (TMAC), Houston, TX. June 2009.
Organizer, Three training workshops to contractors in the greater Houston area, University of Houston, Sugar Land, TX. March – April 2008.
Speaker, Academic Achievers Program's visit to the Construction Graphics and Material labs, University of Houston, Houston, TX. July 2008.
Administrator/Proctor, Constructor certification examination, American Institute of Constructors (AIC), Houston, TX. 2005 – Present.
HONORS & AWARDS
Spirit of ECC Award (program award), Engineering Construction Contracting Association, 2019.
Outstanding Faculty Award, College of Technology Alumni Association, University of Houston, 2018.
Fluor Award for Faculty Teaching Excellence, College of Technology, University of Houston, 2015.
Teacher of the year, Construction Management Department, University of Houston, 2013.
Fluor Award for Faculty Research Excellence, College of Technology, University of Houston, 2010.
Best Peer Reviewed Paper Award, Journal of Management in Engineering, ASCE. 2009.
Mary Louise Imrie Graduate Student Award, University of Alberta, Canada. 2003.
Robert Stollery/USF and G Insurance Company of Canada Award in Construction Engineering and Management, Canada. 2002.
Student Award – second prize, Chinese National Electricity Association, China. 1995.
Best Student Award, Chinese Society of Water Resources, China. 1994.
Tianjin University Scholarship, First Prize, Tianjin University, China. 1993-1996
The Carol A. Kueker Construction Education Visionary Award recognizes individuals for their passion and dedication to NEF programs and the promotion of construction education.
Award Nominees for 2020.2021
Shanen L. Aranmor
Owner/Instructor/Welder
Weld Like a Girl
Yuma, AZ
Sponsor: Nicolle Wilkinson
Doreen Cannon
Full Time Instructor
Cleveland Plumber's Journeyman & Apprenticeship Training Center
Cleveland, OH
Sponsor: Laura Ceja
Reetika Dhawan
Associate Vice-President of Workforce Development and Career & Technical Education
Yuma, AZ
Sponsor: Nicolle Wilkinson
Lauren Holmes
Senior Project Manager
Lease Crutcher Lewis
Beaverton, OR
Sponsor: Erin Holmes
Kevin Imes
Superintendentant
STEDY (Southwest Technical Education District of Yuma)
Yuma, AZ
Sponsor: Nicolle Wilkinson
Penny M. Knoll
Associate Professor
Montana State University
Bozeman, MT
Sponsor: Andrew Sabia
Jennifer Lacy
Building Forward Lean Practice Leader
Robins & Morton
Plano, TX
Sponsor: Rachel Boyd
Ken-Yu Lin
Associate Professor
University of Washington/College of Built Environments/Dept of Construction Management
Seattle, WA
Sponsor: Renee Cheng
Susan N. Mass
Office Manager/Training Operations Manager/Senior Associate
Terracon Consultants, Inc.
Mountlake Terrace, WA
Sponsor: Ken Valder
Cecilia Orozco
Architectural Drafting Engineering CADD Instructor
Center for Career & Technology Education
El Paso, TX
Sponsor: Julia Smith
Dr. Lingguang Song
College of Technology/Construction Management
University of Houston
Houston, TX
Sponsor: Sandy K. Field, CBT, CIT
Previous Recipients
2019: Michael E. Barkett
President
Mississippi Construction Education Foundation
Pearl, MS
2018: Alise Martiny
Business Manager/Finance Secretary
Greater Kansas City Building Trades Council
Independence, MO
2017: Kathleen Garrity
Retired President
Associated Builders & Contractors of Western Washington
Mill Creek, WA
2016: Jack Chapel
Education Coordinator
AGC, San Diego Chapter, Apprenticeship and Training Trust
San Diego, CA
2015: Robert M. Aydukovic
CRE President
Maryland Center for Construction Education and Innovation (MCCEI)
Towson, MD
2014: Brian H. Hess
Engineering/Surveying Coordinator
Mount San Jacinto Community College
San Jacinto, CA
2013: Jennifer Blanchard Belk
Assistant Professor of Interior Design
Winthrop University
Rock Hill, SC
2012: Dr. Linda Thomas-Mobley
Chair, Construction Management Program
NewSchool of Architecture & Design
San Diego, CA
2011: Sheilah Goulart
Founder & Director
YouthBuild San Joaquin, Pre YouthBuild
San Joaquin Building Futures Academy
San Joaquin Regional Conservation Corps.
WorkStartYES
Stockton, CA
2010: Dan Graham
President
Northwest College of Construction
Portland, OR
Darline H. Johnson Volunteer Achievement Award
Past Recipients
2012: Karen E. Long, CIT was recognized for time, leadership and overall dedication to the on-line testing procedures for NEF Adult Education courses.
2009: Susan Carson, CIT and Linda Young, CBT, CIT were recognized for their work in developing the Construction Bookkeeping 101 (CBT) Adult Education program.
2006: Pat Callicotte, CCA was recognized for time, talent, leadership and overall dedication to the organization over the past years.
2005: Roger Liska was recognized for his exemplary efforts to promote NEF and its programs across the industry and help build their value and prestige.
2004: Frances Jackson was recognized for her outstanding fund-raising efforts for NEF and her overall dedication to the organization.
1998: Carol Kueker was recognized for her outstanding service as Program Coordinator for NEF.
1997: Kimberly Cameron was recognized for her involvement in organizing the Building Design Program targeted towards students in grades six through nine.
1993: Cheryl Kolar was recognized for her role in establishing the CAD/Design/Drafting Competition geared toward senior high school students.