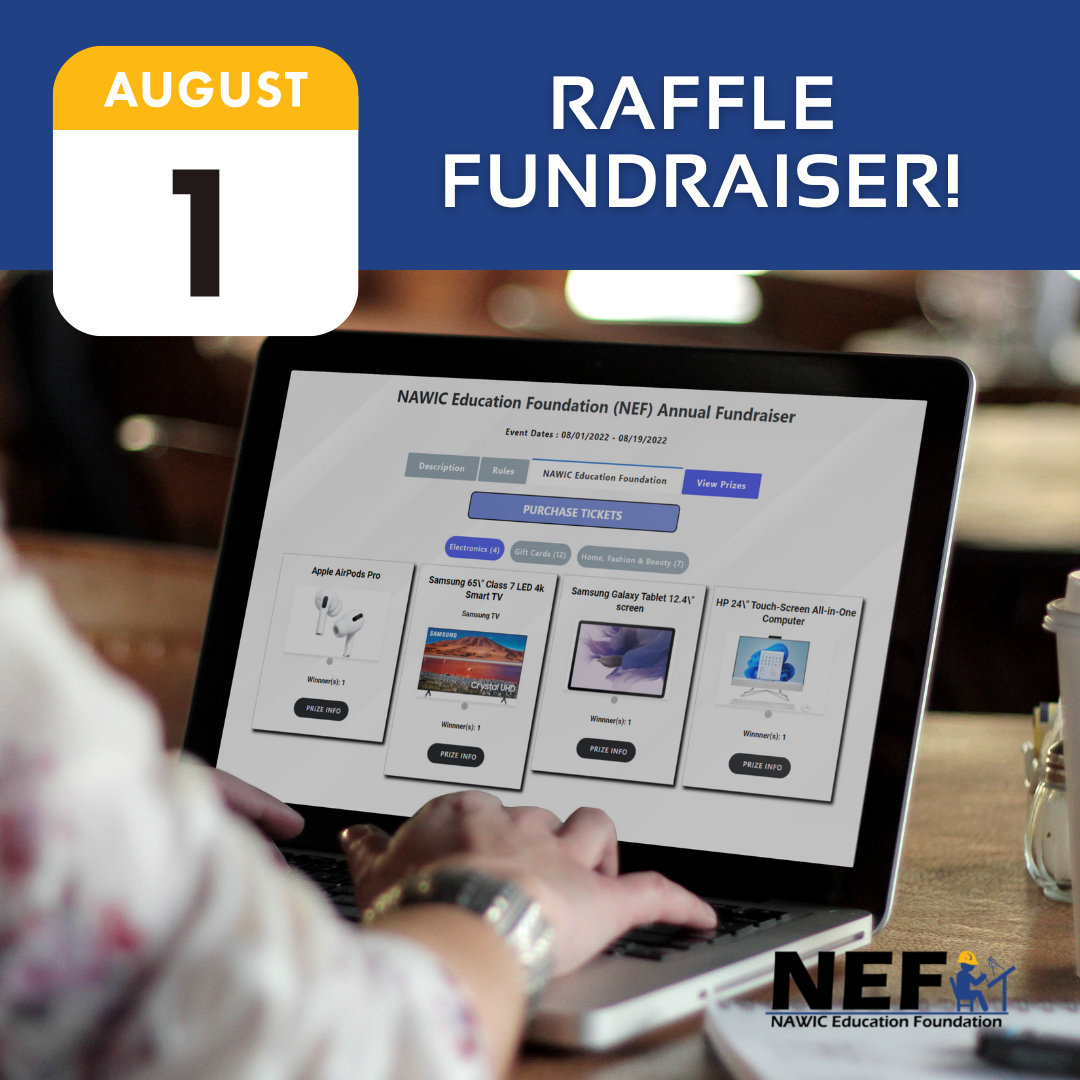 The 2022 Annual Raffle Fundraiser is Now Open!
It's that time of year again! The NEF Raffle Fundraiser is open from August 1, 2022, at 8:00 am (Eastern) to August 19, 2022, at 12:00 pm (Eastern)
To participate visit nef.ourraffle.org
The details:
Anyone 18 years of age or older is eligible to enter the raffle.
Winners will be drawn on Friday, August 19, 2022, at 12:30 (Eastern) and winners will be notified via phone no later than Monday, August 22, 2022.
All prizes will be shipped to the address shown on the winner's entry form via US Postal Service, UPS or FedEx.
Monies raised by the NAWIC Education Foundation Annual Fundraiser will be used to further the purpose of our Foundation, "Educating the construction industry today … and tomorrow".
Donations for the Annual Fundraiser were received from:
1. NAWIC Las Vegas, NV #74
2. NAWIC Columbia, SC #113
3. NAWIC Charlotte, NC #121
4. NAWIC Omaha, NE #116
5. NAWIC Pacific Southwest Region
6. Frances Jackson
7. Wendy Jarred
8. Robin Fulton Meyer
9. Cari Morones
Some of the prizes available include:
1. Apple AirPods Pro
2. 65″ Samsung TV
3. Samsung Galaxy Tablet 12.4″ screen
4. HP 24″ Touch-Screen All-in-One Computer
5. $200 Southwest Airlines gift card
6. $100 Best Buy gift card
7. $100 Darden Restaurant gift card, which includes Olive Garden, Longhorn, Yard House, Cheddars, Bahama Breeze
8. $100 TopGolf gift card
9. $200 Visa gift card
10. $200 Amazon gift card